Tired of your under-performing ads, sales pages, videos and more.. when you

know

 you could convert SO much more sales?
"Imagine: In Three Months Or Less I'll
Turn 

You

Into A Copywriting Maven
Who Generates Sales By Sheer Instinct!"
Greatly Increases Your Own Selling Power
OR

 Even Kick-Starts A Lucrative Copywriting Career:
Gift Yourself With High-Powered  Sales Copy Mentoring
I KNOW what it's like, you know.
You've seen in product launches how devastatingly profitable direct response copy can be, you know the outright cash windfalls it can generate… as if on a whim (true for some).
But what you DON'T know is HOW to do the same, don't know if you have the chops… AND to add insult to injury, you're drowning in conflicting information.
You'd rather just get there, to have that raw income generating power at your fingertips, to turn words into cash at will.
You just want that experience, that ability to greatly benefit your own life, your close ones, your business, your clients… anyone.
Through sheer selling power flowing from your fingertips. Literally.
Perhaps you're even toying with making it a career.
If only… someone put you on the right track, someone who's been through the learning curve, who can show you the fastest way to being able to write pure cash-generating sales copy and get your business on a super-converting, super-growth track!
Well… something like that doesn't happen often, but this just might be your lucky day!
Now, let's take a step back and get REALLY clear…
So Why's This Sales Copy Mentoring
So Important For Your Financial Future?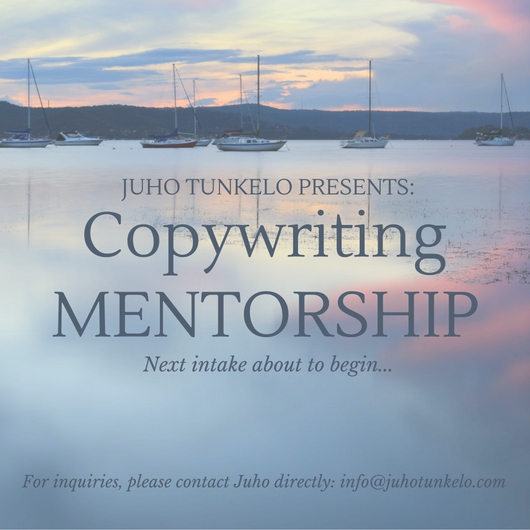 To put it as simply as possible:
Copywriting Mentorship is a program where you write copy for your own products or services, fully guided by a proven copywriter who course-corrects, guides, and feeds you the right information to succeed. Until you get it right and profit wildly… even by instinct!
Sound good? Dozens have benefited from mentoring in the last year alone, are you my next success story…
How Much Would 
You

Benefit From
Copy Mentoring – Are You Right For This?

You're highly likely to benefit greatly if you're in one of two categories. Because this program is…
For Entrepreneurs and Business Owners who desire to vastly improve their ability to sell their own products… (think hockey stick growth curve!)
AND equally…
For Budding Copywriters who want to make direct response copywriting their career, their bread and butter to generate great things from
Basically, you understand what THIS means to your future: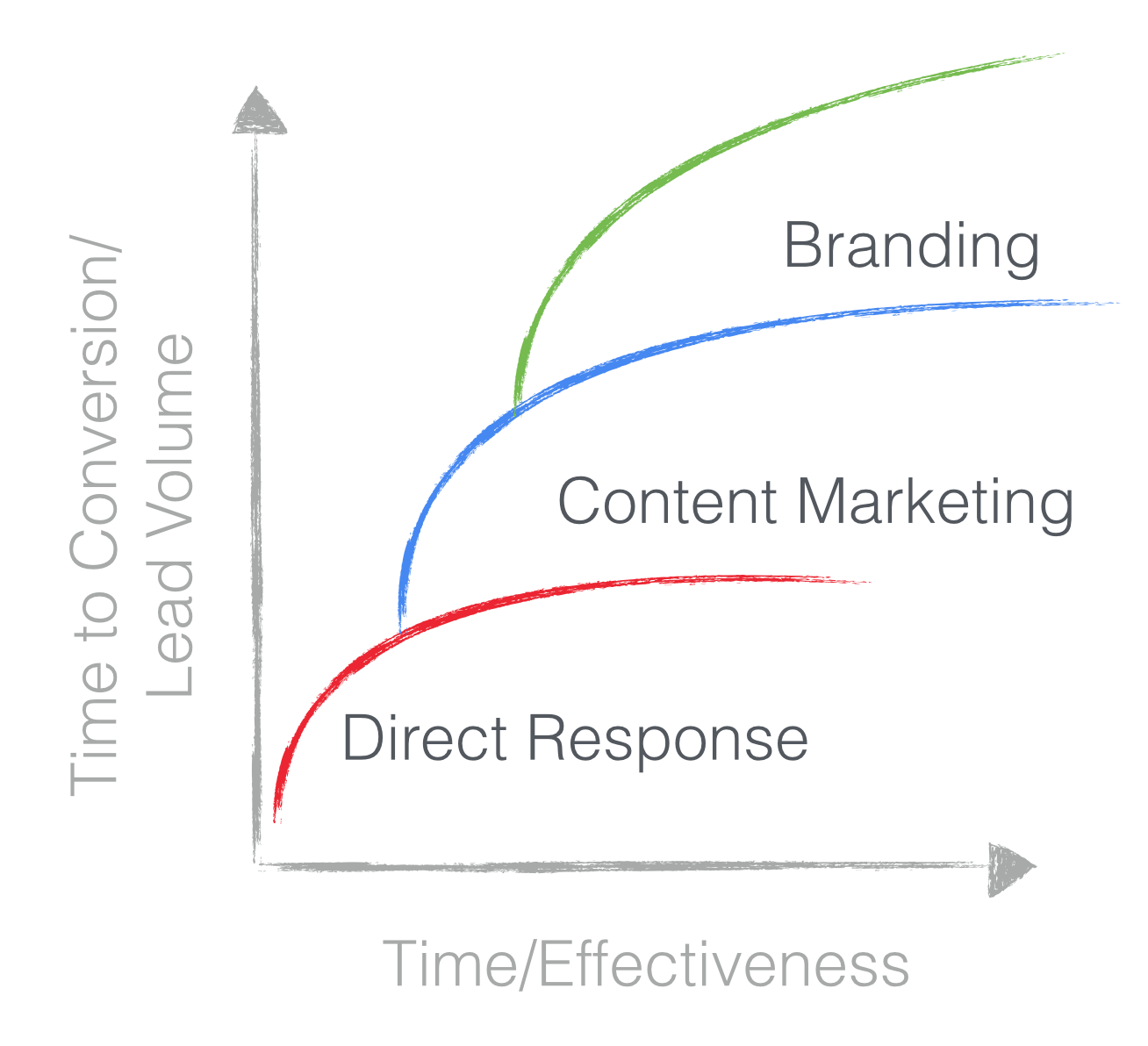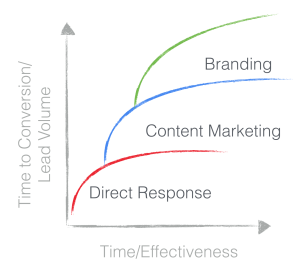 This model is originally from the corporate consulting mammoth McKinsey, designed to justify the patience needed for 'brand marketing'.
Be that as it may, any business owner with half a brain cell will look at that and say: "I WANT DIRECT RESPONSE!". So you might as well accept it, and do what it takes to get the power of direct response on your side.
That's who you need to be, and that's also who you will be writing for. Those who care about direct results.
Everything You'll Get In Your Mentorship
Unfettered access to me. You'd normally need to shell out in excess of $2500 even to 'ask for advice'. Ask me anything, and I'll pull the curtains wide open!
Regular copy critiques, constructive assistance. My clients and students alike keep telling me how valuable this is for them. The reason why is, learning by example while transforming poor copy into powerful copy is how you learn the fastest, and realize what's the actual psychology behind great copy.
I'll gently show you what you're doing wrong, but I won't stop there. I'll actually rewrite your copy so you won't have to 'guess'. No better – or easier – way to learn!
I'll show you how to get it right, by the hand, example by example, through my own writing, templates and formulas I use in my client projects every single day. You get to model what's working right now, and make it yours as I watch over your shoulder.
I won't outright write your copy for you, but I'll get as close as needed to make sure your copy WILL perform.
For the duration of your mentoring, my brain is yours to pick. My swipe file is your swipe file.
Frankly, typically you CANNOT BUY this sort of access. Well maybe the legendary Gary Halbert did offer that once, for the equivalent of $50,000 a month, I heard from a reputable source.
The point is: you're staring a stark raving mad deal in the eye here…
And Lest We Forget!
This Is Business And I Insist You to
Have
Instant

Return On Your Investment

Obviously, you'll want to have a direct business benefit from your mentoring in addition to learning how to write copy.

Depending on what your starting point motivation is, this could mean:
If You Want to Become a Freelance Copywriter: I'll help you productize and price your services, and show you how (and where) to get clients, what to charge, how to get percentages and retainers… ALL of it. 10+ years of experience in raw copywriting business savvy, rolled into your hand.
On the other hand:
If You're a Business Owner or Employed by One: I'll be helping you get more sales, more conversions, more results from everything you

already

do! No need to change anything, just add powerful copywriting and direct response savvy into the mix… and you could multiply your bottom line many times over (this routinely happens when you follow my instructions).
Sound good enough to eat? Good! Let's go on…
How You Can Enroll Today And
Join The Club Where You
Know


How to Generate Sales… At Will!

Can I be totally frank with you for a moment? Great.

Because truth is, if you don't already have an 'itch' you can only scratch by being mentored by a proven copywriter to make you into one yourself… you're probably not quite right for this.

If I need to 'sell' you on the benefit of being mentored by a proven direct response copywriter, you're probably not the right candidate for mentoring, just yet.

However!

If you DO have that burning desire to feel how raw conversion power flows from your very fingertips into your sales pages, landing pages, emails and videos… all the way to your bank account… Then we're 100% in sync here.

It's in your interest to act fast. Not because of some overblown scarcity tactic, but simply because there's just one of me to go around. I can manage only 5 people max. in this style of mentorship program.

And frankly, it's way more lucrative for you than it is to me, so as much as I'd like to just mentor people like yourself… I have a business of my own to run. Which means I will give you my full training, but not my whole life. Alright, now…

So if you can imagine yourself banging out fresh sales copy, having me tweak it for extra power, getting realisation after realization you can instantly use to improve your selling power… I know there's only one last thing you want to know.
Your Investment Is Not That Large
By Any Means But It Is Right…
For Your
Highly

Profitable Future!

Normally, I charge $30,000 per year for mentoring.
Which comes out to a hair over $2000 dollars per month.
That commitment is for one year, no less, non-refundable. 


This

time

though

, I decided to give a chance to those in the beginning
or growth stages of their copywriting careers, or just wanting to give
someone on marketing staff some hands-on training. 

PS. Refunds not available on this program. This is a serious (but fun) commitment for us both. However, if your personal situation abruptly changes during the mentorship and you must abort to take care of things, you can do so and cancel any further billing. Just understand that my work for you is an investment in your money making ability. It cannot be rolled back, nor should it ever be. I'm committed to helping you make that investment back many times over, I expect you to be also.
Let's Have A Chat First And Ensure We're A Good Fit:
Email me at info(at)juhotunkelo.com (I answer this email personally)
Or reserve a private call with me on my public calendar here.
I'll interview you for a few minutes and tell you straight, then and there, whether you should apply or not. Based on my experience, I can usually tell within just a few minutes. Then we can quickly arrive at the right decision for You. I promise there will be NO hard-sell of any kind. I simply only want candidates who are the right fit, and we can work well together.
Don't Just Take My Word For It…
Hear One Mentee's Transformational Experience:
"I needed to improve my writing quickly to speak to my audience more effectively and be able to give them what they wanted. I also had a tight deadline so I needed to improve fast. I've followed Juho's work for a while and was impressed with his copy. When I saw his limited offer to personally teach writing, I jumped on the chance.
Fast forward 3 months and besides helping me improve the copy on multiple projects and instead of giving me the fish, he taught me how to fish. He broke down copywriting to digestible chunks and its core elements, shared relevant swipe files and went over each until I grasped it.
Besides being extremely knowledgeable about many subjects, I found Juho to be very patient and accessible, even with a 7 hour time difference between us. If you're looking to improve your copywriting skills or just want to run some copy by a professional for feedback and review, I would highly recommend Juho Tunkelo's services."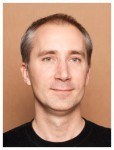 Tamas Acs, Primal Synergy
Hear another deeply satisfied customer, with incredible results to share… 
"In Juho's copy mentoring, we kept building the foundations for great copy, week by week, piece by piece.
As the final result, I came out with the best converting landing page in the country, in my industry!
Ultimately responsible for at least hundreds of thousands euros in repeat income."



Jalmari Kivinen, CMO