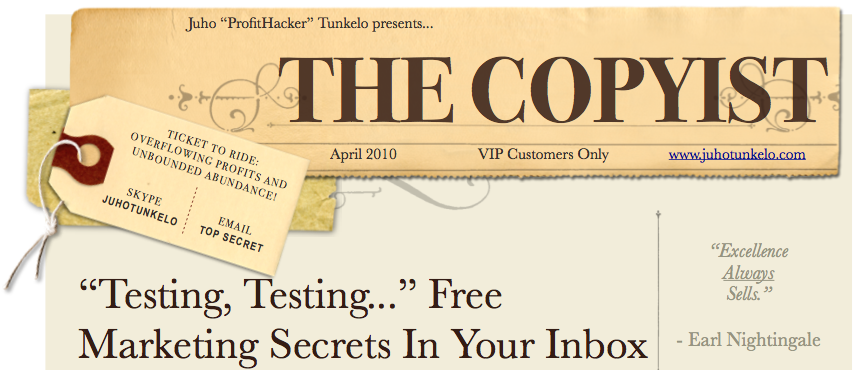 Hey there!
Glad you could made it.
And since you did, congratulations on your love of WHAT WORKS!
Because this newsletter usually only attracts people who know, appreciate, and use everything that truly works out there in the real world.
Tire-kickers, me-too marketers and looky-loos… not so much.
So RELAX, you're in with the good crowd.
Before you go and sign up for your monthly, glossy PDF installment of premium copywriting and marketing tips and tactics… let me give you some idea what it is.
The Copyist Newsletter is:
Irreverent – meaning, we kiss up to nobody and tell it like it is (even when it hurts)
Future-oriented – meaning you get to KNOW what works before others even HEAR about it
Unconventional – meaning you get to hear about tactics others may ridicule or belittle; they're free to do so until they dare to jump the bandwagon
Fundamental – meaning everything you read about is deeply rooted in the fundamentals of direct response, persuasion, real salesmanship and plain common sense
Profit-oriented – meaning, if it doesn't increase your bottom line… it doesn't get published.
That's it, you profit-seeking traveller you.
Wanna have a monthly raising-of-levels in your business, then this is the form to fill out.
Looking forward to it, my copy pistols are cocked and ready!
(Wow, was THAT weird or what? I told you – unconventional. 😉 )