As someone currently getting into the e-commerce game big time (actually, returning to it after a few years in between), I've been very glad to see a player like Fruugo come up on the scene.
There's been a lot of brouhaha lately about the up-and-coming Social Shopping Search Engine (hey, their term not mine). An e-commerce aggregator, so to speak.
Granted, there's lots of opportunity in localization (very costly and labor intensive though, and possible support nightmare), and tending to cross-border clients.
Scores of e-tailers should embrace the opportunity (personally, I hope they'll expand the category selection dramatically though).
So, are they the next Amazon.com… or, are they throwing out the baby with the bathwater? (we'll get to that…)
However… "I have a few questions". 🙂
First, let's have a few words about the user interface.
It's clean and bright, and simple to use. Not exactly a lot of frills and thrills that you'd expect, and I hope it stays that way.
However, I think it might be even a little too simple. Take navigation for instance.
There's a drop-down menu on the right, which will then open up the various categories with a couple of clicks.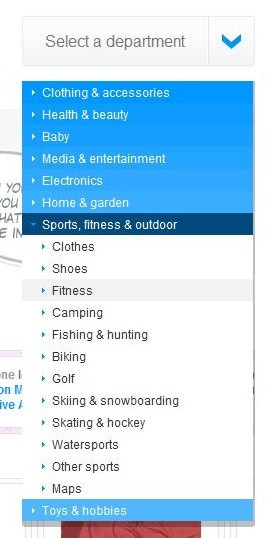 The Fruugo navbar
There's a couple of things wrong with that though: I read from left to right, so the logical place for a place to start would be on the left, not right.
And the less clicks you need to get somewhere, the better. In other words, ditch the flashy drop-down and do a proper navigation bar with descriptive enough links that get you there directly.
There's more, but I'm sure their usability team will iron these things out eventually.
What's happening behind the scenes at Fruugo is more interesting, anyway.
One particularly interesting question is, how are they going to get the traffic they need to become as big as they intend to become?
Do they have a massive pan-European ad campaign planned? Piggyback on their partners' traffic?
So is Fruugo a "build it and they will come" type of operation, or is there something deeper in the works?
Another particularly interesting question is this: What about affiliates?
How will Fruugo's merchant partners' affiliate workhorses react to being cut out?
Will Fruugo have an affiliate program of their own?
They're already getting a commission from their own service, including fraud detection and first line support. So is there going to be enough margin for affiliates?
Because let's face it, affiliates drive a LOT of traffic to e-commerce. Or associates, as Amazon.com calls them.
RunToShop is at least promising to reward customers for recommending merchants/products (not sure if that's not a tainted relationship already – they do have a head of affiliate relations but there's no mention of affiliates elsewhere).
Affiliate marketing is huge business, and a big part of e-commerce.
How will Fruugo deal with that?
How do they intend to trump Amazon? Affiliates are currently making a killing on Amazon directly through PPC so why would they bother with Fruugo anyway? (Okay, maybe euro-affiliates may have an edge here).
There's plenty of room for a player like Fruugo, it's just not very clear yet what they bring to the table for all.
Considering that fact, it would be in their interests to start talking more openly about what their goals are, especially since their success largely depends on masses of e-tailers and other players.
We have yet to see a newsletter, blog, anything really.
Hoping all the best for their newlyborn panda, and wishing to see it grow up very soon. 🙂