Hey – long time no see!
Lately I've been making a lot of observations about both my own habits, about those of my friends and clients, and the world at large.
Sweeping statement, I know, but I've made some discoveries that may well be of use to you.
Because if you're anything resembling a normal human 🙂 you have times when things seem to work out effortlessly, and at other times… not so much.
It's a huge topic, but here's one angle I've become particularly fond of lately, expressed in this formula:
THINKING + ACTION + WHILE CONNECTED TO GOALS = SUCCESS
At first blush, this may seem blazingly obvious and trite, so it takes some explaining. Here we go.
1. THINKING – Obvious at first, when you think about it, it's quite common to catch people doing things without thinking first. And even if they think beforehand, it often goes out the window when action starts. Combining the two is quite an art, whatever you may be doing.
If you leave out thinking, action can easily become weak. I see this all the time in the online business when people put out half-assed, even half-finished content and even products.
They may have an idea, and they may take action, but the outcome is weak without proper thinking behind it. That's why truly GREAT content and info products are so rare these days.
2. ACTION – Of course, if you just keep thinking about things and never take action, what you can achieve is pretty limited. Again this is woefully common in online business, when people keep studying and thinking and speculating… when they should already be putting it all to action.
On the other hand, others yet take that dreaded advice 'just start taking action'… That's all well and good, but without powerful thought to back it up, the results will inevitably be limited.
I remember a great anecdote from an interview of Jim Courier, when he'd just become the world's #1 tennis player in 1992.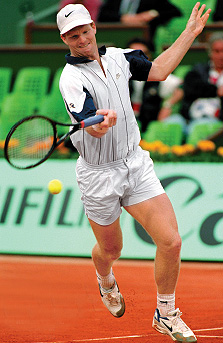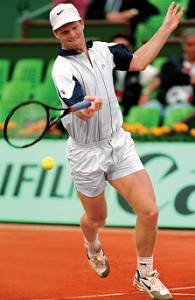 He'd been playing the pro tennis tour for some time, got some success but suddenly he beats everyone. An interviewer asked what made this happen, and here's Jim's answer (paraphrased):
"I'd always known how to hit the ball hard and accurately. And after the game I'd analyze what I did so I'll do better the next time. But when my coach taught me how to think and hit the ball at the same time... everything changed."
There it is. Deceptively simple, but oh so true. Apply this to anything, and the quality of your output will soar.
3. WHILE CONNECTED TO YOUR GOAL – Here's the truly interesting part.
Seeing as normal humans can just barely think and act at the same time – often colorfully depicted as 'walk and chew gum at the same time' – adding a third element to the mix seems perilous, no?
Well, it would be if it weren't for the 'WHILE' part. This connotes something very different from just thinking, acting AND then focusing on a goal at the same time. Lesser mortals have been known to crumble under all that load. Not necessary.
Here's the trick that makes it clear and effective. Your thinking and action must be flowing from a place where you've already reached your goal. In other words, your goal 'talks' to you and tells you what to do in order to achieve it.
Too esoteric? Okay, let's try this.
Since your mind can only be occupied by one thing at one time, it should be by and large occupied with the task at hand. Right?
So how DO you stay connected to your goal while immersed in action – is that even possible?
That's where the subconscious part of the human mind comes into play. You choose a goal, get into it, experience yourself achieving it… then release it.
Usual stuff. However, the connection between your conscious mind and subconscious mind, and your mind and body, is what ultimately makes it work.
You no longer get lost chasing a goal… because it's always with you. It's a subtle but crucial difference.
If you want to dramatically increase your chances of great results, try thinking while acting while connected to your goals. It's a magnificent feeling, and more than that… it works.