Would you opt-in to this simple offer?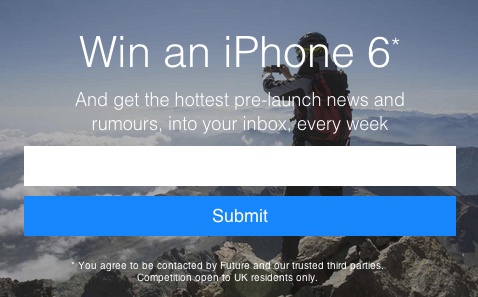 If you don't out-and-out loathe Apple products… chances are, you would.
And did. I certainly did. 🙂
I have no difficulty admitting this simple opt-in form had a great effect on me.
Sure, I like and use Apple products and I'm well aware that iPhone 6 is still weeks away, at least.
And yet, the power of an irresistible offer cannot be discounted.
When you want something, you want something. You have no choice in the matter.
Then it's down to whether you're authentic to yourself, whether you act on your authentic  desires.
Most people do… and yet would never admit it.
But they DO buy products!
So if you're a marketer… don't forget the power of the good ol' irresistible offer.
No amount of smart copy, flashy video or booming sound will beat the power of a Great Offer.
Period.