Yes my friend, I know.. EVERYONE uses Amazon.com for their case studies and whatnot.
But this is too good to pass by.
A couple of days ago, I made a routine purchase on Amazon.com. A few physical books for a change, I almost always go for the Kindle ones.
Anyway.
After I got to the Thank You page after the purchase, I noticed something that I hadn't seen before. Or at least, I had thought nothing of it, apparently.
You see… If you run an e-commerce store of some repute, you're probably running some kind of Related Products widget down the page, right?
So when people are shopping they will always have more and more relevant options at their fingertips. Okay.
HOWEVER… are you presenting those options where it matters the MOST – a.k.a. the thank-you page?
Because you KNOW the best time to sell something is… right? When your customer has JUST bought something. They're STILL in buying mode!
So the best way to do that is what? Yes, presenting even more related products, but HOW? Let's see how Amazon does it.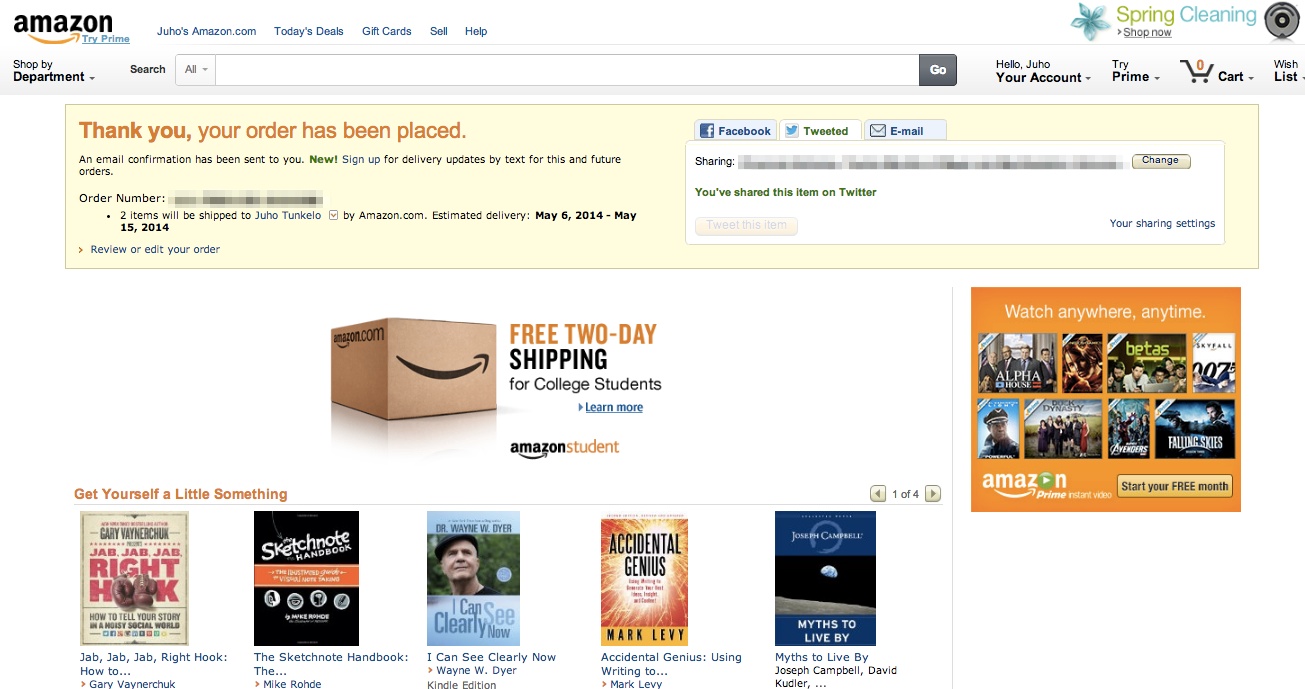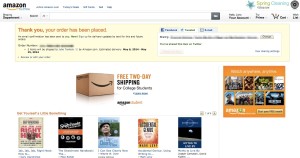 Here's what it looks like on Amazon after purchase. Click on the picture above if you want a closer look.
But now, take a look at what follows below this picture!

How about that? Appealing to your undeniable need to give yourself a break from time to time.

You viewed these items recently so there must be something to them, right? So curiosity will win you over.

And if curiosity wasn't awakened by now, surely the peer pressure elicited here will do the job!

Oh… you're with the times, aren't you? Enough ebooks in your library, and enough for that long haul flight next week?

Oh heck. Since we're going, let's just keep going. You're a considerate person, right? So you must consider… these titles. 🙂 See how that works?

Oh yeah. And while we're at it we'll also appeal to your sense of consistency (one of the 7 principles of persuasion á la Cialdini, remember?) and get you to look for more, to be 'complete'.
…and I'm pretty sure there were two more that I forgot to capture, because I counted up to eight.
EIGHT times they tried to regain my attention and direct it to more products, more sales for them.
EIGHT!
How many times do YOU do it, and how specific, personalized and actionable is the copy you're using?
I thought so.
There is some great software that does this sort of thing… but you don't necessarily need fancy software to achieve the same. Just some good old-fashioned business sense, and some winning sales copy. As always.