Yeah, I know… there are many things about internet marketing that are difficult.
Ok, I'll give you this: they may SEEM difficult.
For someone, it could be the technology. For someone else, it's the learning curve involved with learning to sell. For yet another, it's the barrier to come out and show what you're made of.
And even so… you DO have the choice to focus on the essentials.
And the essentials are never hard. Certainly not superhuman.
They involve the basic human interaction skills, mostly.
You know, like a water cooler conversation.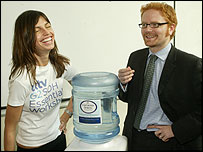 The way people let their guard down and communicate around the water cooler is something to behold…
The best information, the most important gripes, yes even the odd rumor… happens in an environment like this.
So guess what? The same applies to info product creation and info marketing in general!
I ALMOST named my home study course 'Water Cooler Secrets' – but ultimately decided it would bring the incorrect associations. 😉
It's all about hitting that Sweet Spot early on… and then leveraging it all through the process.
There are worse things you could do with your time today than consider an Easy Does It approach.