Hey!
Some time ago I announced a new Facebook group about to be opened, on persuasion and whatnot.
And I was very excited about it.
Perhaps you were too, and applied to join the group.
Well… what happened is a long story, but what it is, too many simultaneous plans ongoing turned out to be too much, and something had to go.
In this case, Pete Dunn and I had to conclude that both of our businesses demand so much attention that it wouldn't be fair to open a new group if we cannot give it our full, undivided attention.
So, I'm sorry – High Impact Persuasion is being dismantled.
But to make up for this snafu – especially if you already applied to join – we have a gift for you.
That is, a half dozen episodes of our Pirates of Persuasion podcast, newly released.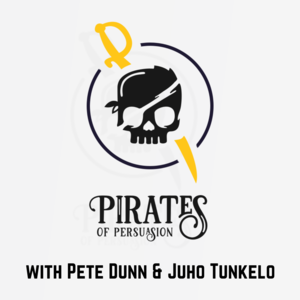 Get your ear candy here, according to your preferred player:
Pirates of Persuasion (web player)
Pirates of Persuasion (iTunes)
Pirates of Persuasion (Spotify)
More sales boosting content in the works right now…
Until then, have a good one!
-Juho