It happened again, and I couldn't possibly let this one go by.
Nokia just came out with yet another innovation that SHOULD be market making – and I do hope it will be –  if they just get the marketing right.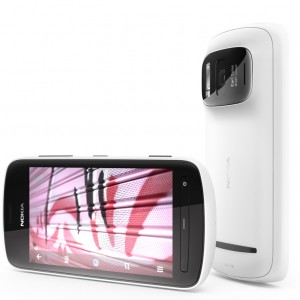 Judging by the launch though, looks as though the huge promise is not getting the treatment it deserves.
The announcement came as just a few minutes on stage, pulling out the new 41 megapixel cameraphone, the Nokia 808 PureView.
The result was an instantaneous explosion… of contradicting buzz:
Yes it's great that it's got 41 megapixels and new tech… sure hope Nokia's back now…
AND…
Oh who cares about megapixels, this is another gimmick by Nokia, will be delayed and forgotten…
In other words, Nokia left it completely to the reporting public (yes I'm calling it that) to frame the message, what it means and how it's perceived and perpetuated.
BIG mistake.
Could you even imagine Apple ever doing that?
The iPhone 4S came close actually, but that was just an incremental release of an already successful product.
There HAS to be a better way to package this. Let's give it a shot:
'NO MORE SMUTTY PICTURES!'
As a result of 5 years of ceaseless research no other mobile company is willing to do (Nokia spends 3X more on R&D than its rivals, and it shows)
The result completely transforms the experience of mobile photography and makes it 'cool' again!
Over 5 times sharper than the latest iPhone: a stunning 41 megapixels (another industry first by Nokia)
Zoom your pictures without losing any of the quality – no more fuzzy closeups! (a long time pet peeve of photo enthusiasts)
Even three-time zooming leaves you with great quality
Shoot great pictures in low-light situations: you get great snaps when it matters!
Revolutionary oversampling technology combines 7 pixels into one: no more artificial, pixelated images!
Shoot Full 1080p video with virtually lossless zooming and no-distortion audio
And then… you take those points and make it sing and fly!
Especially at an event that has a product launch per minute, you HAVE to make sure you get the messaging right.
Thankfully, Nokia still has a second chance to get it right during the runup to the actual market release of the device.
I do hope they're paying attention to how it's done right because it's getting almost embarrassing to look at how they're missing so many chances.
It's ALL In The Framing

In this case, Nokia desperately needs to recapture The Frame – and not let bloggers or anybody else define it for them.
In the 1990's Nokia got a nice head start thanks to a few breaks in technology and some bold decisions.
They were the number one in the world for almost two decades – and by many metrics still are!
But the perception has definitely changed, and you can't really argue with that.
Over the past five years, they've let Apple and a bunch of tech journalists completely snatch the frame from them – meaning, letting them define what Nokia is or isn't, how they're relevant, why they're doing what they're doing.
Taking it back begins with making stronger statements, with incisive language, with their product launches. Sure, the product will speak for itself eventually, but if nobody gets it in their hands, the product is DOA.
With years of R&D put into these development projects, you'd think a little thought should go into how it's perceived by the public?
Sure, Apple may even put almost too much attention on it, but that's how they keep winning the hears and minds.
Market leadership is something you need to keep working on even after you have it. Giants can lose it, small companies can too. But it's never too late to recapture the frame – becoming the leader is about making statements, and how you make them. Ready? Go!