Hey there.
You thought it was gone for sure, didn't you?
I don't blame you. 🙂 After all, I didn't release a new issue in months.
The reason will become apparent soon enough, for now go and enjoy this one!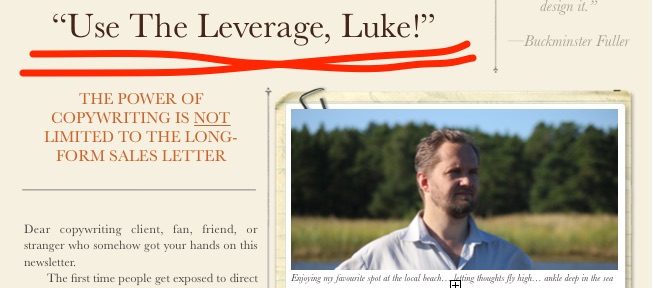 This one has both directly applicable copywriting tips, as well as invaluable 'meta information' from the copywriter's journey… so make sure you devour all of it with an open mind.
Among this May 2016 issue's topics:
7 surprising 'commands' my copywriting mentoring clients hear as they're being taught and groomed for greatness…
The ONE personal trait that helps you read your prospect's mind… and have them act of their own volition!
12 of the world's most persuasive words – use just a couple and see what happens!
Why getting out of your comfort zone could actually sabotage your success… and what to do instead (I've personally verified this with millionaire friends)
Read it, apply it, profit from it… today!
If you're not yet a subscriber, you can join right here.