Hi there friends,
As far as I'm concerned, today is a Very Great Day.
One of the reasons it's great to be alive today is, there's a wildly important ebook released into the wild today…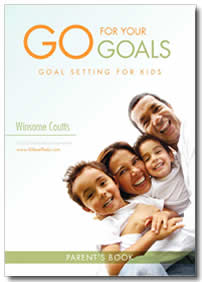 Go For Your Goals – Goal Setting for Kids!
FINALLY! A book for kids to learn not only about goal setting (even that 99% of kids never learn in school), but how to reach their goals with the auspicious wind of the Law of Attraction.
To watch a quick 2.5 minute video about it, press play below:

(Or if you prefer watching it on YouTube (lesser quality though), just go here.)As a father of two kids (aged one and six, respectively), I couldn't be happier to tell the world about this fantastic book.Actually, it's three books for the price of one! Here are the other two:
So there's one for parents, one for little kids, and one for bigger kids.
I think I'll send a copy for my godson's parents today, actually… can't think of a better gift for a young schoolkid's future!
Oh, there's one more thing… (to quote the erstwhile Columbo)
If you decide to get the book for your family, or whomever, you'll also get a bonus gift from yours truly.
It's an advance copy of a book I'm currently finishing up, called The Natural Laws of Money.
This brand new booklet describes how the Laws of Nature determine your level of wealth (And how to influence them!).
It exposes the exact laws that you need to follow to get more money in your life.
What's not to like right? 🙂
So do check out the outstanding new book from Winsome Coutts & co, Go For Your Goals – Goal Setting for Kids!