Have you noticed that in recent years, even the newspapers and magazines have had to resort to split testing… to figure out what their readers REALLY respond to?
It's true.
I've seen several high profile magazines send out different editions of the same issue, only with a different appeal on the front page. That's how they figure out what the hot buttons of their audiences really are, measured by their wallet responses.
No more one size fits all. No more guessing games and running after the latest hot trends and fads like a bunch of lemmings.
Well, no more doing ONLY the trivial, at least. Measuring what works has reached even the trendiest of publications, and it shows.
Case in point, Esquire magazine. Feast your eyes on these three different covers for the same issue: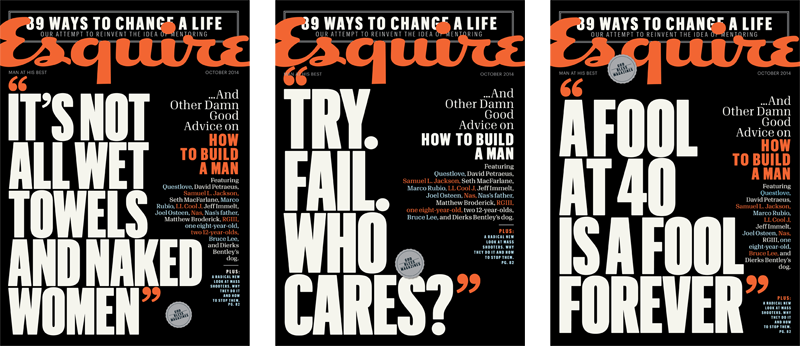 Which one of these would you personally pick up at the newsstand? I'm partial to #3 as it's my age bracket, so that's pretty irresistible. I suspect most will gravitate towards #1 which taps the age-old, evergreen debauchery intrigue angle with delightfully reckless abandon…
By the way, you should definitely take up the habit of reading at least the headlines off of Esquire Magazine. Because they're pretty great at grabbing your attention and taking your pulse, with a dash of the outrageous thrown in.
Sometimes, I swear they must be covertly reading the shady side of my unconscious to come up with those sometimes seedy yet irresistible headlines… But I digress. 😉 It's something to behold, and to study for emotional impact.
Anyway, especially if your marketing suffers from the 'timid syndrome', you MUST subscribe to their newsletter at least. But now, back to the split testing before I go off on a tangent permanently.
Also, I vividly remember a Wired magazine campaign a year or two back where they tested three different covers (I'm paraphrasing):
"Google Will Rule The World"

"Amazon Will Win The Internet"

"Apple Will Take Over The World"
Something to that effect.
I don't know the outcome of that campaign but you can be sure those kinds of results will have a BIG effect on what kind of LINE a magazine takes, will they cater to the nerds, the geeks, or the snobs.
Three groups of dweebs insulted at once, well done. Hehe. Anyway… point is…
If you're not split testing something in your online business by now, you have some catching up to do. And even if you're not in online business, you're currently being played by those who know how to play your industry's game the best. The only remedy is to begin, begin now, with something that has impact on your results. Any impact. It's time to shake off that timidity and rock the boat… before someone else comes around and shakes it for you.