So, my friend!
If you're in the position of having a list, you have an audience, and a voice, and some semblance of success…
You're going to be approached for JV's, affiliate promotions and product launches all the time.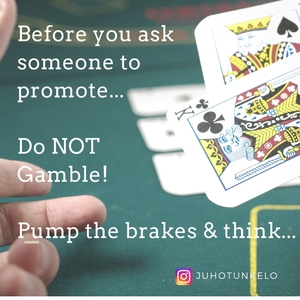 So here's the 5-part formula for you:
Make It Easy For Me
Create an account for me for your product; I'm only going to promote something I've seen, consumed and used myself
Create me affiliate account and links for me in advance; don't make me jump through hoops
Tell me who your product is ideally for, how it's going to help them, the main sales arguments; don't make me do your market research for you…
Tell Me What's In It For Me
How much I stand to make per lead and per sale (have some proof in numbers)
Why you think it's in the best interest of my audience (as in, why it's fitting for me to share your thing)
What bonus will I get if I pull out all the stops and REALLY go to bat for you? (Better commissions, cash prizes, something novel or 'cool')
Make The Timeline Clear
How much time I have to try the product myself
Which dates I'm expected to clear from my calendar
How many mailings to come, which are the most important ones
Help Me Make My Promotion Of  Your Product Successful
Give ideas for pre-sell material that boosts sales
Make yourself available for video shoots, webinars, podcasts etc.
Keep Me Engaged So I Don't Forget
Have an affiliate area that's easy to return to (a simple url helps)
Keep updating your affiliate pages as much or MORE than your external pages
Email your affiliates regularly so they won't simply forget about you
That's it!
Not too difficult, is it? 🙂
So here's the same message in video form:
And just in case it didn't sink in yet – these are not my personal demands, quirks or peculiarities.
It's just a shortlist of what's required to get the attention, let alone preference, of people in a position to promote other people's stuff.
That's all. Make it rain!
The thing is… it's easy to get caught up in your head when you've just created an awesome product, program or whatever you're itching to sell en masse. But that's exactly when you need to pump the brakes just a LITTLE bit and put yourself in your affiliates' position. What do THEY need to know? How do I make this successful for THEM? Simply doing this will go a LONG way towards a long term fulfilling joint venture.