Hey!
Another installment of new, useful or just plain cool resources from around the interwebs.
Easy as pumpkin pie.
Without further ado, here we go:
Marketing
Wicked Cool Plugins – 14 WordPress plugins for marketers. Useful stuff.
Content Marketing Tips for E-Commerce Stores – pretty good list here. This graph pulled from there is revealing as well: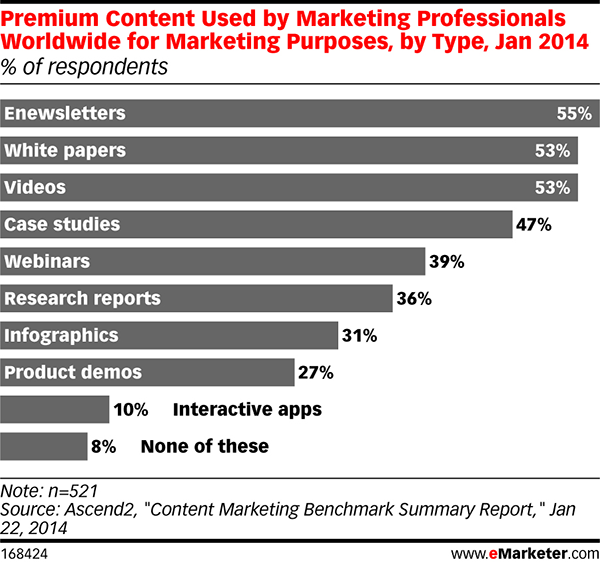 Little Pork Chop – helps you tweet out a series of thoughts uninterrupted
The "Double Reverse" Launch – a look at an interesting twist to product launches online
Dispostable – disposable email addresses: a very handy thing when testing new services, list setups or membership sites
TypeForm – a very clever service for online forms and surveys (you can, say, customize the front end of your funnel using this!)
Cameo – an iPhone app that helps you create great storytelling type videos for your marketing
Litmus Subject Line Checker – this is super important for your email marketing! Check how your subject lines look on different email clients before you send anything out
3 elements of successful Facebook posts – just what it says. 🙂
Tech
How to Record Audio for Business Video – a great tutorial from Wistia
XenForo – well-regarded forum software for community sites
Boomerang – a Gmail add-on for scheduling, tracking and more
QuadForce Video Drone – a superlight $89 video drone for your ad hoc drone needs. Very cool!
InMotion Hosting – high-performance hosting service, tipped by a reliable source…
Lifestyle
Artwave Surf – you'd like to take up surfing but there's no waves where you live? No problem, create your own!
TechMerino – "Merino is Tech" 😉
My Friends Call Me Johnny –  "Heir to a European auto fortune, photographer, art collector, successful tech investor, jetsetter and creator of the men's clothing brand LimoLand. It's Jean "Johnny" Pigozzi's world … you just don't know it yet."
Beddit – new kind of sleep tracking for the quantified self folks…
Productivity & More
7 strange questions – that could help you find your life purpose… or something close to it
iOS 8.1 tips and tricks – if you've updated recently to the latest iOS version, here's a list of things it can do!
Flic – a wearable wireless shortcut button that tells your smartphone to do something specific, like, now.
Facebook Panic Button – if you think you might have published something you shouldn't have on Facebook, here's the place to go.
Emergent – the newest rumors and stories from around the world – with a reliability score. don't fall for the trolls, check Emergent first.
That's it! This month's crop was rather plentiful don't you think? Enjoy the free tips, and I'll see you seen in another installment!