Here's a list of apps I actually use, if not daily, on a continuous basis to run my business and life.
These are all Apple app store links, so click away to get yours.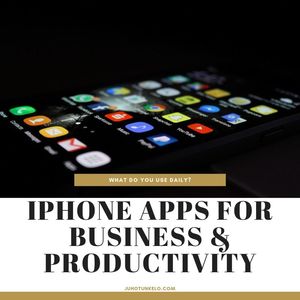 ORGANIZATION
Trello for keeping track of projects, todos and goals 
Evernote for storing and managing masses of text based notes
Skitch for storing screen shots, graphs and other quick visualizations
MONEY MANAGEMENT
Pivo – for getting notifications on personal finance + business cashflow
Paypal + Holvi for taking payments without hassles
XE currency – for currency calculation on hand… need this daily
(plus bank apps for biz & personal accts, but what do you care about those right)
COMMUNICATION
WhatsApp – for group messaging between different groups, mostly
Gmail (dedicated app) – for reading Google based email without cluttering the mobile mailbox
Dropbox Plus + Apple iCloud Files + sometimes even Google Drive for quickly sharing files large and small
CONTENT
SimplePin – for easy Pinboard bookmarking
Feedbin mobile – for daily content catchup (sometimes I use Reeder and others but the mobile version is good enough)
Pocket for storing valued articles for reading while commuting etc.
Audible for listening to audioboooks while on the road
PLANNING
Scanner Pro – for scanning receipts, documents, whatever.. on the go
iThoughts – for mind mapping on the go, especially great on the iPad
ZOOM – for interviews and other recordable phone calls
MEDIA CREATION
Filmic Pro for shooting high caliber video for promotions & social media
Auphonic Recorder – for high quality audio recording & editing on the go, processed immediately
Camera+ 2 for RAW level  iPhone snaps on the go
Snapseed for image editing for said RAW snaps
Webxicon – a basic online dictionary, another app in daily use
Got some of your iPhone favorites tragically not on my list? Sound off in the comments!