If you're an entrepreneur, you're probably very familiar with a certain feeling of overwhelm.
It's as if EVEN if you'll hit all the right notes, all day long, make some great progress…
You STILL end up feeling like you didn't do enough.
Sure, it motivates you for the following day but it WILL get old eventually.
Chances are, you're massively over-complicating things.
Let's try something different.
Let's assume you could get the ESSENTIALS of your day done in just four actions.
"Four clicks", so to speak…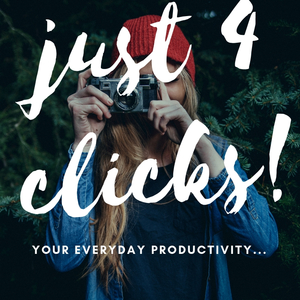 This is ALL it takes for you to have a successful day as an entrepreneur.
For instance:
A well crafted offer designed to convert, sent out – click!
A strategic content piece published – click!
A new ad written, tested and activated – click!
An important meeting had or deal done – click!
Shoot to achieve four meaningful 'clicks' per day, no more.
You'll be satisfied at the end of every single day, even if you don't manage to annihilate your entire todo list (which never happens anyway, am I right?!).
And when you really want to kick up your productivity, consider starting up that….
NO, not another to-do list…
But a have-done list.
Trust me, it'll do wonders to both your bottom line and personal satisfaction.
Give it a shot.
And when you've got this going, you'll soon notice the consistency effect kicks in.
Do this day in and day out… and the consistency factor will take good care of you.
Just don't fall under the illusion that those actions can be just anything… they need to be the highest value you can provide Right Today.
That's what matters, and that's when the four clicks is more than enough.
Go on, click away!