A few months ago I gushed about how PayPal's open developer program is yielding some very interesting innovations in payment processing.
And sure enough, something highly interesting, useful… and yes, profitable just crept up on my radar a little while ago.
How about this for GREAT piece of affiliate software:
Creates an instant plug-and-play affiliate program for anything you sell
Splits payments between vendor and affiliate INSTANTLY!
Works with WordPress, the easiest to use and most popular content management system on the planet
As a result, this is basically what happens:
You attract loads more affiliates because they KNOW they will get paid (there's a nasty trend out there where affiliates can wait for commissions for months.. or forever)
Your affiliates promote with greater enthusiasm because they know every sale they generate means instant money in their account
You get to completely bypass the headache of affiliate accounting – because the affiliate commissions never enter your account to begin with!
So if you've been dragging your feet, trying to decide which affiliate program, system or software to use… use this while you decide!
Frankly, WP Instant Pay is a very exciting piece of software demonstrating the shape of things to come in both affiliate marketing and in payment processing.
Once you have it up and running (takes maybe a minute to upload and activate), you can proudly wear this badge on your site: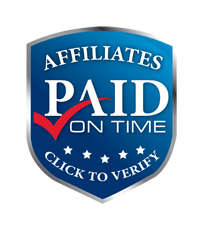 After all, you can ONLY pay your affiliates on time when you pay them at the time of the sale. Cool, huh?
It's a great time for all of us in this business. So go ahead, make your paycheck! 🙂
PS. Once again – should you click on some of the links in this post and order something, I just might get paid a tiny, tiny commission and enjoy a quick espresso on some dastardly cold Helsinki morning on your behalf. In the event that happens, I promise to think of you extra warmly.